'Sir Daniel' going to jail
Self-styled knight sentenced in $2.4M tax evasion case

Les Perreaux
National Post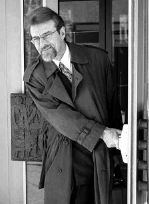 Joe Bryksa, The Canadian Press

Sir Daniel Kingsley Lear, who ran pyramid travel schemes, has not filed a tax return since 1978.


WINNIPEG - A self-styled knight of Christian orders who cited the King James Bible as authority for his tax evasion was sentenced yesterday to five years, eight months in prison and ordered to pay the $2.4-million he owes the Canada Customs and Revenue Agency.
Sir Daniel Kingsley Lear, or Ralph Swim as he was named when he was born in Bath, N.B., 46 years ago, was convicted and sentenced in the largest case of tax evasion in Manitoba history -- and among the largest and strangest ever in Canada.
Lear's pyramid schemes funded a lavish lifestyle for him and his wife in Winnipeg, buying fancy cars, fur coats and antique furniture for a sprawling estate on the Red River.
After a trial that lasted nearly four months, a jury found that Lear failed to pay $2.4-million in taxes on $8.4-million income. If Lear fails to repay the taxes he owes, an extra year will be tacked on to his sentence.
''There is little hope the CCRA will recover these taxes because you have made yourself judgment proof,'' Mr. Justice Kenneth Hanssen told Lear. ''You have shown complete and utter disrespect for the law of the land.''
Lear, or Sir Daniel as he is called by supporters, has not filed a tax return since 1978. He said the provincial and federal governments hold no jurisdiction over him or his money. Throughout the trial, Lear represented himself and gave lengthy speeches on how God allows him to create wealth without paying taxes.
Lear executed his defence in yesterday's sentencing hearing with the same bizarre twists that have marked the rest of the four-year-old case.
Lear cited the British North America Act and other documents that he called the doctrine of Philadelphia, the Tokyo rules and the constitution of Ceylon in an effort to convince the judge that he does not have jurisdiction in his own courtroom.
''I do not want to hear about the BNA Act,'' said Judge Hanssen, of the court of Queen's Bench. ''You can cite the Philadelphia doctrine if you like, but it's not going to do you much good. We're not in Philadelphia.''
Lear repeatedly said the laws of Canada, including the Income Tax Act, do not apply to him.
''I am not a legal person,'' he said yesterday and on many occasions throughout his trial.
''I'm not about to hear a bunch of nonsense,'' Judge Hanssen replied, cutting off Lear's speech.
However, for more than an hour, Lear described what he called the treasonous actions of Judge Hanssen -- who Lear maintained is acting without authority -- and the Crown.
''Destiny has brought the flesh against the infidel,'' Lear said. ''Truth be known sir, I am weary from the fight against the infidel.''
Several times Judge Hanssen interrupted Lear to urge him to talk about why he should receive a shorter sentence.
Lear's sentencing has required several weeks, a psychiatric report and beefed-up security in the Winnipeg court of Queen's Bench. When his supporters entered the courthouse yesterday, security staff could be seen calling ahead by two-way radio to maintain surveillance.
As Lear sat in leg shackles in a Winnipeg Remand Centre gym outfit instead of his $1,500 suit, the brown dye fading from his hair, a band of supporters heckled from the gallery as court was in session.
Several times proceedings were interrupted as Lear's supporters -- many claiming a wide assortment of titles, religious affiliations and forms of punctuation in their names -- stood to speak. One man was asked several times to leave when he refused to remove a multi-coloured wool hat which he described as ''religious paraphernalia.'' The man was in court earlier in the day on drug charges.
During the hearing, Judge Hanssen wondered if there had been some deterioration in Lear's mental state. Last Friday, he ordered a psychiatric assessment -- the first one in the case, despite Lear's obvious erratic behaviour -- after he accused the judge of treason. Lear said the judge could not serve two masters; the Bible on which he swore his oath of service, and the government's law.
''There may have been a deterioration since the guilty finding,'' Judge Hanssen said. ''There was no previous assessment because he was clearly competent and I did observe him for three to five months.''
In a 12-page report, a psychiatrist found Lear was fit to be sentenced, although he noted some of Lear's unusual views. During an interview, Lear said he talks directly to Satan and God, but he did not receive legal advice from them. He also claimed to have had several out-of-body experiences and psychic powers. He said he has predicted a number of air disasters.
Dr. Frank Vattheuer concluded that while Lear was narcissistic and had delusions of grandeur, he is not mentally ill.
When sentencing finally proceeded yesterday, Chris Mainella, the Crown prosecutor, played a tape of an interview an unrepentant Lear gave to a radio program on his views on taxation.
The interviewer, Peter Warren, asked Lear if he ever used the roadways, medical systems, or other services that are paid for by tax dollars.
''Your point?'' Lear responded. ''It has nothing to do with the money. It has to do with the supremacy of the court of conscience and taking a stand when you are at war with the agents of the flesh.''
Mr. Mainella said all of Lear's rhetoric is simply a cover for his greed.
''All of these slogans, about freedom and privacy, they're all ways to disguise this person's avarice,'' he said.
During the four-month-long trial, the jury heard from a group including college professors and former football players who bought into Lear's pyramid travel schemes.
The Getaway Travel Network was a pyramid scheme in which investors would pay $49, recruit 14 new investors and then move up the ladder and receive discount travel to exotic five-star locales around the world.
Through slick infomercials, Lear sold the vacation packages that frequently did not achieve expectations.
A retired Winnipeg college professor and his wife paid about $20,000 and induced friends to put up another $34,000 before realizing they'd been scammed. One former CFL football player described a trip to Mexico where his family expected a five-star hotel but ended up in a dive his children dubbed ''the yellow burrito.''
According to prosecutors, Mr. Lear sold other clients on schemes to avoid paying taxes on income. At one point he set up over 1,000 accounts in the Caribbean nation of St. Kitts and Nevis, which has no banking oversight, to help people eliminate their tax bills.
Lear hid the profits from his ventures in accounts in the Grand Cayman Islands, Turks and Caicos and Barbados. His companies were also registered in the offshore tax havens.
Local authorities in Indiana first uncovered the case in 1997 after receiving complaints from unhappy customers. The case was referred to the RCMP and eventually to the revenue agency.