An assortment of 2.4 Ghz antennas for microwave link applications. Omni and directional types available for your Wireless LAN, WIFI, 802.11 and other 2.4GHz data connections. Also ideal for remote data links, digital audio links and many other applications that require extra range and performance.

Line of sight distances of several miles can be easily covered with the parabolic mesh antennas allowing point to point data networks to be easily created. The omni directional types are perfect for centrally located access point installations.


Click for details
WiFi rubber duck antennas
We carry 6 different models of 2.4 GHz Wibberduck antennas in 2 different colors. All the antennas are preset gain at 1.5 dB. The difference between the antennas are the antenna length, the SMA or TNC connectors, the power input and the price. Click here for more information.
Models
Wibberduck-3
Wibberduck-5



Click for details
Desktop WiFi Range extenders
Radiolabs offers 2 different versions of desktop WiFi antennas. The difference is the physical size and the style of the antenna and the available connectors. Radiolabs WiFi desktop antennas are capable of a maximum 10 watts power input. The connectors are either SMA or MMCX male. Click here for specifications and pricing.
Models
Desk-5mini
Desk-5





Click for details
Magnetic WiFi antenna
Very popular with truck drivers and mobile lan users, the popular, low-profile magnetic mount Wi Fi antennas are selling quick. We offer a variety of 2.4 gig WiFi magnetic mount antennas for the mobile user. The differences are mainly the antenna gain, size, style and mount. The connectors available are N, TNC, SMA, M and MMCX. Click here for additional specifications and pricing.
Models
Mini-3
Mobile-3
Mobile-5
Mobile-7





Click for details
Indoor Ceiling Mount WiFi Antenna
For wireless home or office networking, Radiolabs offers our line of indoor ceiling mount antennas They are nearly invisible in your home or office.. All of our ceiling mount antennas are capable of 50 watts power input and gain ranges from 3dB to 5dB. Click here for detailed specifications and pricing.
Models
2.4CMA-Dome
2.4CMA-3
2.4CMA-5





Click for details
Outdoor vertical antenna for WiFi
If you want more power or have to go a long distance, you simply have to go outside with your WiFi antenna. Radiolabs offers 2 differnt types of vertical antennas for your long-distance WiFi needs. The difference between the two antenas is gain (8dB vs. 11dB), length and appearance. Oh, and the price. Click here for more information.
Models
Omni-8
Omni-11





Click for details
Yagi Directional WiFi antennas
We stock a complete line of directional, high gain antennas for WiFi. WiFi yagi antennas are one of the best directional designs for transmitting 2.4 gig signals. Gain varies from 12.5dBi to 15 dBi, but the main difference is the water-proof enclosure. The hi-gain yagi WiFi antennas mount on vertical pole for easy outdoor installation. Click here for additional information.
Models
11 Element
14 Element
14 Element W/P
16 Element W/P





Click for details
Indoor Wall-mount Wifi Antenna
So you're indoors and need a high power WiFi antenna. Radiolabs has the perfect indoor WiFi antenna for your application. Gain ranges from 7dBi to a whopping 17 dBi. We have four different models with different style mounts and a range of connectors from SMA to N, M MMCX, TNC or you can name your connector and we will install it for you free. Click here for more information.
Models
RL1000
RL1010
RL1020





Click for details
WiFi Panel Antenna
For the highest gain indoor WiFi application, Radiolabs offers the 2.4 gig panel antenna. Our panel antennas offer up to 18 db gain over an isotropic radiator and can handle up to 200 watts of power. Not that you would ever want to put that much power into your WiFi antenna, but just in case.All types of low-loss microwave connectors are available for any application. Click here for full specifications.
Models
Panel 65
Panel 90
Panel 105
Panel 120





Click for details
WiFi Backfire Antenna
Radiolabs Backfire series antenna offers high gain and convenience. It's small size powerful front gain will help you achieve your WiFi link. Simple mounting and excellent side and back rejection ratio make the "Radiolabs Backfire" an unbeatable combination. We only offer one model, because that's all you will ever need. Click here for full specifications.
Model
Backfire





Click for details
WiFi Parabolic Antenna
So, you really need the ultimate gain and best side and back rejection ratio for your 2.4 gig application. You can't get more forward gain than this unless you hijack the SETI dish in S. America. We offer 6 different model parabolic dish antennas with gain from 21 dBi to an amazing 33dB gain. That's right, 33dB. It can also handle up to 100 watts of 2.4 gig power. Anyone cooking chicken for dinner? Click here for full specificaions.
Models
Stage1
Stage2
Stage3
Stage4
Stage5
Stage6





Click for details
WiFi Grid Antenna
Grid antennas give you the advantage of hi-gain and vertical polarization. The Radiolabs grid antenna has 23.5 dBi of gain and the same footprint of one of our smaller parabolic antennas. The Grid also offers the same outdoor waterproof feedhorn as our parabolics. The 2.4 GHz flat-land record was set with a Grid in Australia last year. they sent 200 mW of power 56 km from grid to grid. Click here for specifications and pricing.
Models
The Grid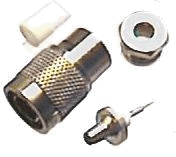 1201-018-N005-000   $6.62
TNC STR PLUG    HELIGRIP
RG58, 55, 141,142,  ETC
Ni/Si   CAPTIVATED
IN STOCK: 53 PCS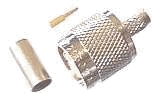 1203-017-N000-000   $4.61
TNC  STRAIGHT PLUG  CRIMP
RG58, 141, ETC
NICKEL/GOLD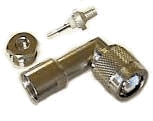 1204-018-N005-000  $11.50
TNC  RIGHT ANGLE  HELIGRIP
RG58, RG55, RG141
Ni/Si  CAPTIVATED



1213-000-N090-000     $6.56
TNC PANEL JACK RECEPTACLE
SQUARE 11/16" FLANGE     SOLD POT
NICKEL/GOLD    CAPTIVATED