Reliable and fast satellite internet service is now available in Costa Rica -- more reliable than dial-up, wireless, and Direcway:
1.2 meter 2-way satellite dish, 2-watt transmitter, and satellite modem -- $2700
Client is responsible for shipping from San José, Costa Rica -- approx $100
Satellite dish mount -- to be built by customer or purchased for $300
Installation -- $600 (extra travel expenses may apply depending on weather and remoteness of location)
One time activation fee -- $100
Availability -- 1 week after receiving payment
Satellite coverage area -- inside the green (46) lines: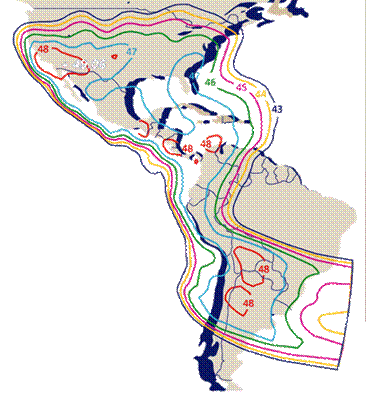 Monthly Bandwidth Service Plans for Latin America


HOME

BUSINESS

PLUS

PRIME

Monthly Cost

$ 119.00

$ 165.00

$ 365.00

$ 899.00

Maximum Downstream

Up to 400 K

Up to 400 K

Up to 750 K

Up to 1000 K

Maximum Upstream

Up to 128 K
(50-80 K Typical)

Up to 128 K
(50-80 K Typical)

Up to 200 K
(120-160 K Typical)

Up to 256 K
(180-230 K Typical)

System Access

24 Hours

24 Hours

24 Hours

24 Hours

Public IP

Additional $ 28.00/mth.

Additional $ 28.00/mth.

Additional $ 28.00/mth.

Additional $ 28.00/mth.

Max. Number of PC's

Maximum 6

Maximum 15

Maximum 30

Maximum 50

Online time

Unlimited

Unlimited

Unlimited

Unlimited

Max. Daily Throughput

200 MB

600 MB

800 MB

1000 MB
Voice over IP Satellite Telephone Service

We offer a Linksys VoIP device specifically configured for satellite communications without the usual problems with Vonage and other VoIP providers that simply won't work over satellite. The equipment comes preconfigured with outgoing calls in two separate phone lines. If you would like, we also offer an inbound US 305 area code number, which people can use to call you any time.

The price of the equipment is US$ 295.00 installed with your antenna. Inbound 305 area code phone number is US$ 15.00 per month per line (Since the equipment can have 2 different phone numbers). ALL incoming calls are free with this subscription.

Outgoing calls to the US, Canada, and Europe are less than 7 cents per minute. Calls to other countries are a fraction of the normal long distance charges from Latin America. The service is prepaid and call usage can be tracked via our website.


Contact Us for a Quote Services available in Guatemala, Honduras, Belize, Nicaragua, Costa Rica, Panamá, Venuzuela, Ecuador, Bolivia and Argentina.