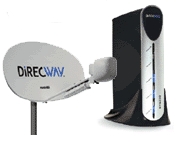 DIRECWAY 2-Way Satellite Internet is a high-speed, broadband internet connection requiring no phone lines. Download speeds average 500kbps and burst at over 2000kbps!

DIRECWAY DW7000 stand-alone Direcway satellite modem is now available internationally!!

DIRECWAY 2-Way Satellite Internet makes getting online easy anywhere from Canada to Central America!

DIRECWAY high-speed internet is now accessible in Canada, Mexico, Belize, Guatemala, Honduras, Nicaragua, El Salvador, Costa Rica, the Caribbean, and Europe!

With DIRECWAY 2-Way Satellite Internet, your super-fast, always on connection is ready when you are -- no dialing in, no waiting. So you can download files in seconds, network multiple computers, quickly access and play audio or video clips, and surf faster than you ever imagined. Because DIRECWAY gives you instant Internet access via satellite, it won't tie up your phone lines like dial-up.


An Always-on Direcway satellite connection
DW7000 Compatibility with Windows and Macintosh
5 FREE Email Accounts (10MB of storage)
Share your Direcway satellite connection on your local network
Unlimited Surfing Hours
24x7 Direcway Technical Support

Tune into live webcasts. Download videos and software in mere seconds. Even exchange favorite music files with friends thousands of miles away. With Direcway 2-way broadband by satellite, you'll surf the web faster than you ever imagined,